Whether you're coming to town for family weekend or just a visit, here's all the information you'll need to get here and get around.
Register for the Parent Network
Help new Roanoke grads prepare for the real world by assisting with advising, interviewing, providing internships, etc. Register for the parent network now.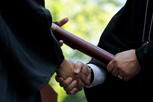 Commencement is coming soon! Get information for students and parents regarding this year's commencement. View the Commencement website.
The Parent Leadership Council gives parents the opportunity to enhance the value of their children's education through advocacy, advisement and philanthropy.
---